PZ desta pompeya desta kargêra hilgirtinê (desta desta hîdrolîk a destan) bi teknolojiya herî dawî ya pompa hîdrolîk bi hewlek kêmtir. Kelûmêlê morkirina Germanî ya herî jor rîska herikîna rûn kêm dike. Ji bo hêza herî mezin û karanîna demdirêj 1 perçeyên perçeyên "C" yên giran. Forksên rêkûpêk ji bo sepanên firehtir jî hene.
Ev kamyona hilgirtinê ya ku bi pompa desta tê xebitandin bi destan destmal pompe dike da ku rakirina çeqçeqan kontrol bike. ew stacker hilgirtina hîdrolîk a destan e ku bi rakirina destan û tevgera destan e. Ji bo xebitandin û rakirina lingan wekî bijare pir hêsan e. Duçarrokek du "7" bila ew bi hêsanî û nermik û hêsan were zivirandin ku ew kir stekerê destan ê pir hêsan, ked-lê-bandor lê. Avahiya giştî ya nerm û sivik dihêle ku ev kamyon hilgirtina paletê ji hêla kesek ve were xebitandin.
Wekî stackerê paleta hîdrolîk a destan, xwediyê 1000kg (2200lbs) kapasîteyê û 1600 mm (63inch) bilindahiya rakirina heye. Rêzeka pirçê were verastkirin bila ew ji bo sepanên cihêreng were bikar anîn û ji bo paletiyên di mezinahiya cûda de fit be. Ji ber vê yekê ev kamyonek stacker ya manual dikare li wargeh, fabrîk, kargeh û hêj jî ji bo karanîna malê tê bikar anîn.
The stacker desta xwediyê model PZ1015, PZ1016, PZ1515, PZ2015 bi kapasîteya cuda û max cuda. dirêjiya çerxê.
Ev series PZ1016 celebek manual e, heke hûn hewceyê vê yekê kontrol bikin stacker nîv-elektrîkî, stacker baterî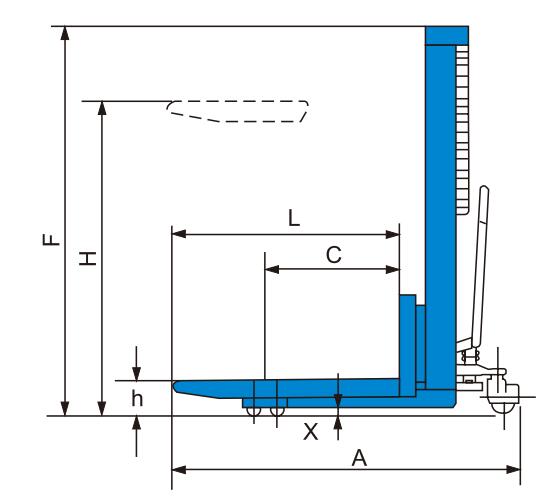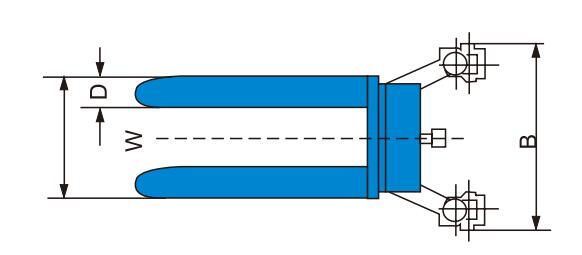 | | | |
| --- | --- | --- |
| Cins | | PZ1016 |
| Kanîn | Kg (lb.) | 1000(2200) |
| Load Center C | mm (di.) | 500(20) |
| Max Fork Height H | mm (di.) | 1600(63) |
| Min .ork Height h | mm (di.) | 85(3.3) |
| Dravê Fork L | mm (di.) | 1150(45.3) |
| Width D | mm (di.) | 100(4) |
| Berfirehiya Pirtûka Giştî ya W | mm (di.) | 224-730(8.8-28.7) |
| Lifting Height Per Stroke | mm (di.) | 12.5(0.5) |
| Paqijkirina Zeviyê X | mm (di.) | 23(0.9) |
| Min. Zivirîna Radyusê (derveyî) | mm (di.) | 1250(49.2) |
| Pêşiya Load Roller | mm (di.) | Ф80 * 43 (3 * 1.7) |
| Hefsar | mm (di.) | Ф180 * 50 (7 * 2) |
| Berfirehî A | mm (di.) | 1660(65.4) |
| Width B | mm (di.) | 700(27.6) |
| Bi tevahî Height F | mm (di.) | 1998(78.7) |
| Wexta Net | Kg (lb.) | 180(396) |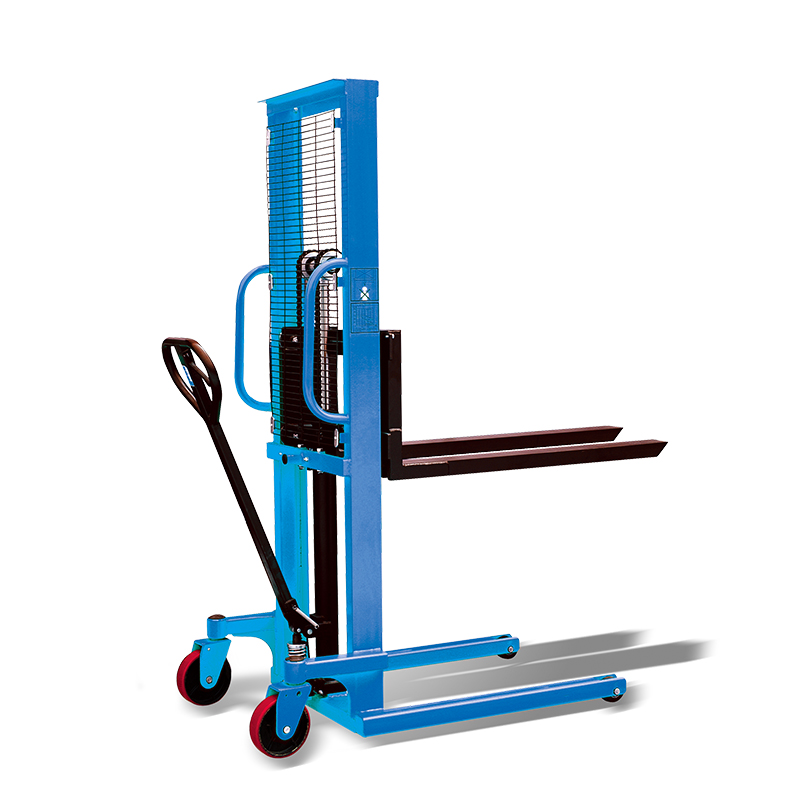 Rêbernameya Karûbarê: Bikaranîna makîneyê ji bo mebestek din ji rakirina materyalê ne ewle ye.
1. Barkirina Barkirin û Berbiçav
1) Ji kerema xwe ya navendî li dora pirojeyan bar bikin. Ji bo pozîsyona navendê ya rast a load şêwaza bargiraniyê ya li ser makînê kontrol bikin.
2) Bi hilgirtina pêgirtê ve di pozîsyona ASCENT-ê de hilgirê bilind bikin
3) Bi vekirina levera kontrolê di pozîsyona LOWER de barkirinê kêm bikin
2. Moşenek barker bi barê
Ew çêtirîn e ku makîneyê bê bar kirin. Barkirina pêvekek barkirinê divê ji bo barkirina û barkirinê li cîhê bisînorkirinê be. Heke hewce be ku makîneyê bi barê pêvek hilkişîne, qaîdeyên ewlehiyê yên jêrîn fêm bikin û bicîh bînin:
1) Navçeyek ast û astengên berbiçav e
2) Load bi dorê li ser forks rast e
3) Ji nişkêve dest pê bikin û bisekinin
4) Rêwîtiya bi load di pozîsyona herî hindiktirîn gengaz de
5) Ma makîneyê bi lêdana bihêz vekêş nekişîne destê xwe bişkoka C-şiklê digire
6) Karmendan ji makîneyê û baranê dûr bigirin
3. Mûzika hilkişînê li ser dirûşmên piçûk
Pêdivî ye ku makîneyek li ser nivîn were bikar anîn. Ger hewce ye ku ji bo armancên barkirina kamyonê di navbera avahî û hwd de danûstandinên dirûşmên piçûk werin danûstandin, rêgezên ewlehiya jêrîn fêm bikin û bicîh bînin:
1) Nivîn ji% 2 kêmtir be
2) Moşen bêne barkirin
3) Forks têne rûxandin
4. Kapasîteya xebitandinê ya yekane
Kapasîteya xebitîn a rast a makîneyê berpirsiyariya bikarhêner e. Dibe ku ev bi operasyona, jêrzemînê û mercên makîneyê û frekansê ya dravdana karanîna barkirinê ve girêdayî ye
Heke barkirin ji kapasîteya xebitandinê ya rastîn bêtir e, divê operator ji yek an çend kesan re were arîkar kirin.
1. Derîyê pira çelenga C-şikestî: bihêz û domdar, sivik û barkirinê hêsan, hêsantir û karker, hilgirtir.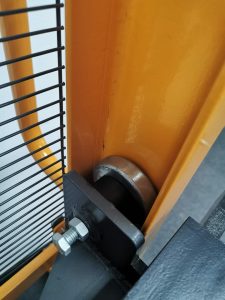 2. Karê ergonomîk, xebitînek rehet û hêsan, bandorkirina xebatê pir baştir dike.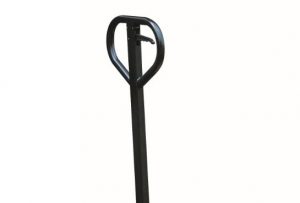 3. Sêwirana netên parastinê, vîzyon pirtir berbiçav û ewleh e. Zincîra bargiraniyê ya giran-giran-kalîteyê, durust û nexşandî ne.
                               
4.Parika ji zengilek zexm hatî çêkirin, yekser tê welî kirin, pêkanîna yek carî, bê guheztin, hilweşandin, û hilgirtina bihêztir. Plateuçeya tîrêja tîrêja qulikê, bi karanîna qehweyê qefilî, dikare bi qiloçê çepê û rastê veqetîne, ji bo cûrbecûr paletayan cihêreng bike.