Ev rêze Elevatorên Elektrîkî bi hêsantir kirin, ewlehî û pêbawer, bixweber û hilanîna karker ve bi dabînkirina hêza hucreyê piçûk, lê pir bikêrhatî û domdar, birêvebirina zincîra piçûk a pêbawer a pêbawer, kontrola panelê ya performansa bilind; Bişkojên pêveka elektrîkî ya pêbawer tevgerên platformê an jî amûrek din a jorîn an jêr kontrol dike. Ev rêzeya Positioner ya Kar bi piranî ji bo veguhastina tiştan, bilindbûn an pilingkirinê tê bikar anîn, an jî hilgirtin û veguhestina tiştan li hin bilindahiyek diyarkirî li ser rûyê berbiçav û asê. Taybetmendiyên spehî, pola alloyî ya ziravî ya berbiçav, kontrola elektrîkê ya hêsan û livdar, xilafkirina otomatîk û karker dibe ku rahêjin asîmanan bi berfirehî werin bikar anîn. Bi taybetî, konfigurasyona gelek amûrên û platforma pileya peyda dike ku rahêjin astan. Parçeyên xebatê yên stûnên piçûk, wek mînak di hilberandina kargehên çapkirina materyalê, super-bazaran, otêl û hwd.
Pêşandana vîdyoyê:
Kamyona stacker a elektrîkê xwedî modelên E100R, E150R, E180N, E250N, E300N, û pozîsyonerên kar jî bi pîvanên giraniyê mîna modela E100W, E150W, E180W, E250W, E300W hene.
▲ Hemî van amûrên standardên bijartî di guhertoyên taybetî yên cûda de hene.
Type Tîpa E di guhertoyek stainless a AISI 304 de jî heye ku ji bo karanîna li deverên sterî an di sektorên xwarinê de ye.
Motor Motora hêzdar, battera 12Ah & 20Ah. Rengînek ji livînên pir maneuverable, tixûbên sêwirandî, yên ku hatine çêkirin ji bo bilindkirina lingan ji her derê astên karkirinê hilgirtin heya bi pêlên destan têne çêkirin.
▲ Ji bo karanîna di navberên teng û cîhên dorfireh de îdeal e. Ji bo hemî serlêdanan ji dermanxwazî heya catering, ji xeta pakkirinê heya nav çandinî, ji wargehê heta nivîsgehê, kêzikan, laboratîfan, dergehên firotanê û kur li ser ...
System Pergala pîvandinê jî nerazîbûn e.
System E pergala parastina elektronîkî ya hilweşîna otomatîkî ya series E-yê ewlehiya ewlehiyê dide. bermayiyên belaş û sekinandî, şîrê barkerê otomatîk.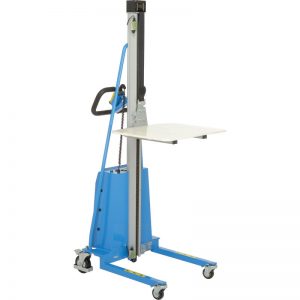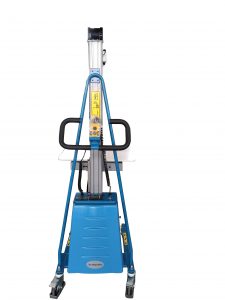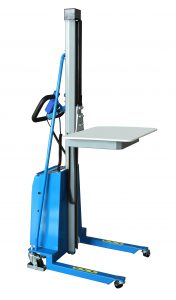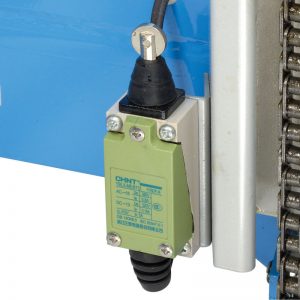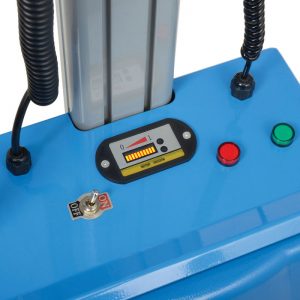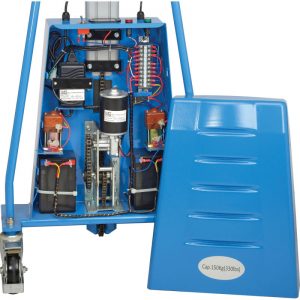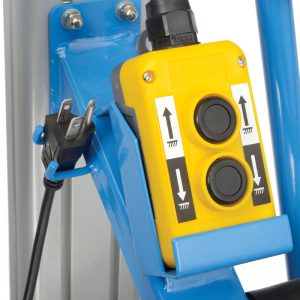 Guhertinên lezgîn ên guhertin hene: Platform dikare di yekîneya veguhastina Ballê de, platforma Roller, V blok an spindle, Fork bi Hook û heta Clamp re bêne guheztin.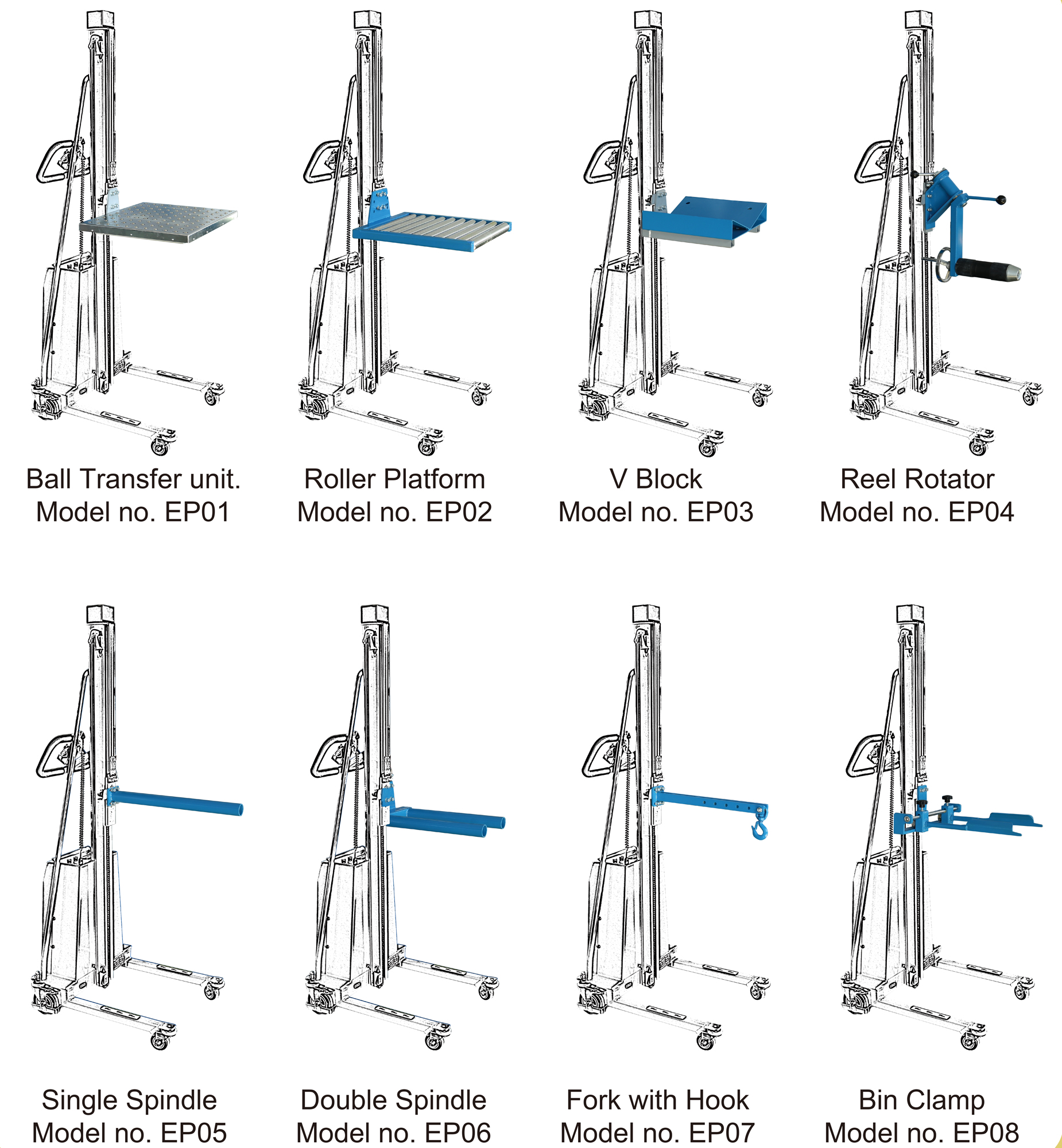 i-lift No.
1551509
1551510
1551505
1551506
1551511
Cins
E100R
E150R
E180N
E250N
E300N
Awa
Elatrîkî
Kanîn
kg (lb.)
100(220)
150(330)
180(396)
250(550)
300(660)
Navenda Load
mm (di.)
235(9.3)
200 (8)
Bilindahiya Max.fork
mm (di.)
1700(67)
1500(60)
1500/1800(60/70)
Min.fork height
mm (di.)
130(5.1)
Mezinahiya platformê
mm (di.)
470*600(18.5*23.6)
480*610(18.9*24)
470*600(18.5*23.6)
Mezinahiya tevayî
mm (di.)
870*600*1990(34.3*23.6*78.3)
870*600*1790(34.3*23.6*70.5)
870*740*1920(2220)(33.5*29.1*75.5(86.6))
Adiyayê Load
mm (di.)
75(3)
Hefsar
mm (di.)
125(5)
Baterî, karûbarê belaş
24V / 12Ah
24V / 20Ah
Pîvanê net
kg (lb.)
66(145.2)
63(138.6)
85(187)
90(198)
105(231)
Wekî çêkirina pozîsyona xebatê, i-Lift jî stackerê elektrîkî peyda dike, pîvandina rewşa pozîsyonê ya xebatê manualer pozîsyona xebatê ya pozîsyonê, stackerê hîdrolîk a manual, stackerê ronahiyê, stackerê elektrîkî ya lift û hwd.
Pergala pîvandinê jî vebijarkî ye.
Rêjeya bilind 1% bi hucreya barkirinê reqkirî 10% pergala parastinê ya barkêşiyê ewlehiya wê digire.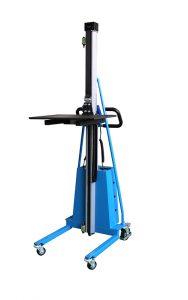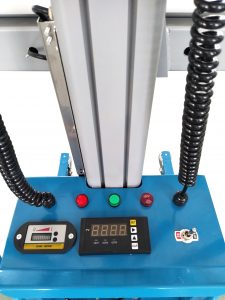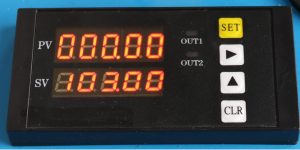 Gazî
Tenê li ser xalîçêkî tenik û bêdeng bikar bînin.
Ma zêde hilweşînin, yekbûnek barkirinê bicîh bikin. Dema ku barê giran barkirinê bala taybetî bidin.
Buzzer dengê hucreyê alarmê kêm dike, di wextê dravê de yan hucre wê zirarê bibe.
Piştrast bike ku voltaja inputê ya şangerker bi voltaja netîceya herêmî re hevaheng e.
Ne ku têkilî bi zincîra an perçeyên din re bizivirin.
Ne ku demjimêrên dirêj ên xebata berdewamî di bin barê giran de, nekarin pirsgirêkên ji germkirina motor û panelê.
Jiyana xebatê ya hilkişînê dema ku di binê 0.7 caran ji barê herî bermayî ya bermayî de dixebite pir dirêj dibe.
Berî çalakiyê qutiya komîsyona elektrîkê ya elektrîkê bigire.
. Rêbernameya Operasyona Positiona Karker a Elektrîkî
1) Elevker: Operasyona Veguhestin, Barkirin û Barkirinê.
1.1 Berî her tiştî di kîjan astê de hilkêşan û dakêşin barkêşan bar bikin.
1.2 Dema ku barkirin û barkirin bêkirin barkirinê deflkirî hergav nayête pejirandin.
1.3 Mîqdar nekin ku hevsengiyê ji yekdestxwazî bigire da ku pê bûyerên xeternak nebin.
1.4 Gava ku hewce ye ku hilkişîna bi hilgirtina bêkêmasî were kişandin, balê bide yekîtiya xwedayan ku hîn jî hewce ne barkirin.
1.5 Dema ku hilkişîna hilkêşkirî hilkişîne, platforma pozîsyona karker a elektrîkî li jêr pozîsyona herî kêm bike, wekî ku ewlehiyê bide.
2) Elevker: Operasyona Hilberîn û Rûmkirinê
2.1Bila lênihêrin ku li cîhê rast rawestin û cîhê xebata hewceyê hewce bikin dema ku hilgir pîvaz be yan tiştên ji bo hin bilindbûnê hilîne.
2.2Lî wheel veşêrin, û hêz bikin.
2.3Bila bişkojka UP-ê ya li ser panelê, pêl bi pêl bi pêl bi pêça hewcedarî hilkişe, û piştre bişkojka serbest bike, platform platform hîn jî berdewam dike û dê bê hilweşandin. Panelê kontrolê ya destikê ya zirav ji bo ku operator ji bo çavdêrîkirin û li ser cîhên cûda kar bikin hêsan e.
2.4 Li pey rêgezên hişk tevbigerin da ku hûn rahêjin gava ku hilberên li jor heya hewceyê hewceyê ji bo veavakirina an piling hewce ne.
2.5 Pêdivî bi zagonî bişopînin da ku gava hûn rahêjin alavên ji raketiyê rahijin lîseyê bixebitin.
2.6 Gava ku xilaskirina barkirina li hin bilindahîtiyê qediya, ji bo platformê ku bi rengek dakêşî dakêşin, Bişkojka SOWN bikirtînin; û pêlika DOWN dikare li her bilindahiya hewceyê were azad kirin dema ku platform pêdivî ye ku ji bo hilkişînê rawestîne da ku karekî nû li heman cihî lê bi bilindahiya cûda bike.
2.7 Ashensor ji bo xwedîkirina parastina parastina overload e. Kengê ku barkirin ji 25% ji kapasîteya binavkirî derbastir be, platform divê neyê bilind kirin, divê asûman nekare karên derbaskirina jorîn, hilkişîn û daketinê û wesayîtê bike.
2.8 Liftkera pozîsyona kar a elektrikê ji bo xwedîkirina parastina parastina hêza nizm hatî çêkirin. Ger hêza hucreyê ji bo karên di dema hilavêtin û daketinê de têr nebe, zexm ji bo 50 seconds şiyar dibe û dûv re jî bixweber qerta elektrîkê ya bi ronahiya nîşaneyê qut dibe (operator di vê çerçovê de divê platformê di astek herî nizm de kêm bike); asîman parastî ye û heke hêza hîn jî bi vî rengî be jî operasyona hilavêtin an daketinê betal e.
3) Hucre
3.1 Hilbera hilgirê ya xwedan çîçek hilgirê ya rûn-sekinandî ya sekinandî ya parastina şûnda ne ji bo hêza lift hate hilbijartin. Ew ji hêla jêhatîbûna kêmbûna kêm, ewle, hêsan siwarbûn û guherîn = derbas dibe, û tête bikar anîn di bin sifirê germahiya hawîrdora -15ºC ~ 50ºC de.
3.2Di jîyana xebatê ya hucreyê de pir bi bikaranîna rast ve girêdayî ye. Jiyana xebatê ya hucreyê dema ku gelek caran di rewşa voltaja nizm de tê bikar anîn, pir tê kurt kirin, û hêj hêmana elementa kontrolê bişewitîne. Li ser vê yekê fikirîn, hilweşîner bi fonksiyonê parastina voltaja kêm di beşa kontrola elektrîkî de tête çêkirin. Di dema ku hilweşîner di binê voltaja kêm de ji bo rabûna an dakêşandinê dixebite, rûken ji bo 50 hûrdem berdewam dike û piştre hêza dravê qut dibe. Operator dema hucreyê deq bike.
4) Karger
4.1 Kargêrên performansa bilind bi astê asîdê re tê peyda kirin, da ku hucre li her termînalê hêzê ya hêja de bibe xwedan kar. Bawer bikin ku voltaja torê ya tixûbê ya herêmî wekî pêdivî ye ku bi voltaja hanê ya şîrêderker hewce ye.
4.2Gava ku hûn bi hêza gûzê ya qefilandinê rakirin, pêveka pinê ya qayişê û qutiya termînalê ya hêzê ve girêdin, nîşana sor a hêza hêza lêkerê ya lêker tê vemirandin, dema ku nîşana kesk ya qayişa kesk ronahiyê ye, ev tê vê wateyê ku hucre statûya barkirinê ye. ; û dema ku nîşana kesk têk diçe, ev tê wê wateyê ku hucre tijî ye. Bi gelemperî, dema dravdanê 10 demjimêrên ~ 12 digire.
4.3Ji ber ku hucreya barkirinê di dema wezîfeya giran de rewşa voltaja nizim nîşan dide, dibe ku hucre xera bibe an jî qayîlgir di tengasiyê de ye.